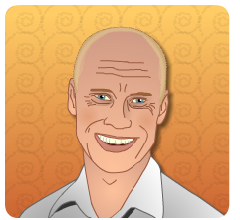 Emma, the stroke nurse, is off to see a new patient for a routine follow-up appointment. Below is the referral form she received.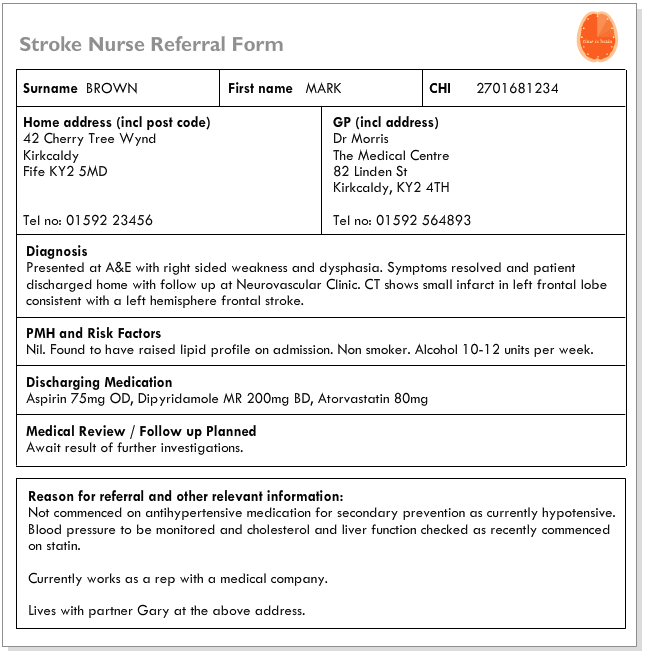 Stroke Nurse Referral Form
Surname BROWN
First name MARK
CHI 2701681234
Home address (incl post code)
42 Cherry Tree Wynd
Kirkcaldy
Fife KY2 5MDTel no: 01592 23456
GP (incl address)
Dr Morris
The Medical Centre
82 Linden St
Kirkcaldy, KY2 4THTel no: 01592 564893
Diagnosis
Presented at A&E with right sided weakness and dysphasia. Symptoms resolved and patient discharged home with follow up at Neurovascular Clinic. CT shows small infarct in left frontal lobe consistent with a left hemisphere frontal stroke.PMH and Risk Factors
Nil. Found to have raised lipid profile on admission. Non smoker. Alcohol 10-12 units per week.Discharging Medication
Aspirin 75mg OD, Dipyridamole MR 200mg BD, Atorvastatin 80mgMedical Review / Follow up Planned
Await result of further investigations.
Reason for referral and other relevant information:
Not commenced on antihypertensive medication for secondary prevention as currently hypotensive. Blood pressure to be monitored and cholesterol and liver function checked as recently commenced on statin.Currently works as a rep with a medical company.Lives with partner Gary at the above address.
Page last reviewed: 09 Apr 2020