Scenario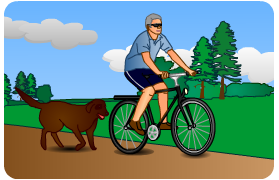 Mr Alan Ash is a very active 65 year old gentleman who recently retired from his job as a physical education teacher. He lives alone in his basement garden flat and has a dog called Patch. He regularly meets up with his brother who lives nearby.
While out cycling, Alan lost his balance and fell off his bike. At the time he didn't think anything of this and managed to safely cycle home. The following morning, however, he found he was dragging his right leg, having difficulty getting dressed and was dropping things. Following contact with NHS 24 he was taken to hospital by ambulance. Alan's CT scan showed a left hemisphere lacunar infarct.
Three weeks after his stroke he was transferred to a stroke rehabilitation unit. He is now nine weeks post stroke.
Page last reviewed: 01 May 2020