Following the meeting with HR Douglas decides not to return to work at this point. To try and lift his spirits Catriona decides they should go out to dinner.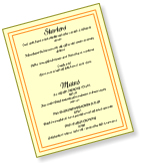 At the restaurant the waiter brings them both a menu and Douglas is very keen to make his choice independently. Click here to view the menu: Italian restaurant menu [PDF, 117KB]
When Douglas opens the menu he realises that it is very detailed and written in Italian and English. He finds it very difficult to read the menu but doesn't want to let his wife see he is struggling. The waiter approaches the table to take their order. Douglas feels under pressure, so when the waiter suggests pork Douglas agrees. Catriona looks baffled as she knows he doesn't like pork and that his favourite food is fish.
When the meal arrives, Douglas is frustrated and states he won't go out for a meal again. He goes to the toilet and overhears the waiter saying 'The man at table 6 couldn't decide what he wanted and was slurring his speech – he must be drunk.'
Page last reviewed: 01 Apr 2020