Keith Hughes-Smith is a retired 78 year old married man.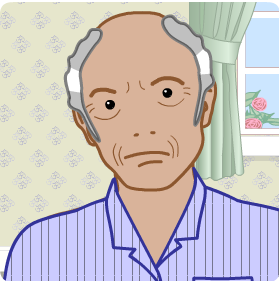 His story
Keith normally keeps well, but has diabetes and was diagnosed with AF, and was put on an oral anticoagulant (Apixaban) 3 months ago. He has been a little confused over the last month. He seemed OK when having breakfast at 8.00am, but his wife heard him fall at 8.30. She found he was unable to speak, had right facial droop and weakness of his right arm and leg. He had hit his head and was bleeding from his nose. She called 999, the paramedics did the FAST test, they checked his BM which as 3.2mmol/l, pre-alerted the hospital and he arrived at 9.15am. His blood pressure was 210/90 when he arrived in the Emergency Dept.
Which symptoms make stroke, more or less likely and which increase the risks of thrombolysis?
Which symptoms are more likely to be a stroke?
Makes a stroke more likely
Has diabetes
Diagnosed with AF
Unable to speak
Right facial droop
Weakness of his right arm and leg
FAST test which was positive
Makes a stroke less likely
Confused over last month
BM which was 3.2mmol/l
Makes thrombolysis riskier
On Oral anticoagulant (Apixaban)
Hit his head and was bleeding
Blood pressure was 210/90
Page last reviewed: 03 Mar 2020