Aims of treatment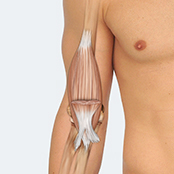 Images subject to copyright. Anatomical diagrams are reproduced with permission from Jost, W; Pictorial Atlas of Botulinum Toxin Injection: Localization, Application; Quintessence Publishing Co Ltd; August 2008. Courtesy of Merz Pharma UK. M-MP-UKI-0059.
The primary aim of the treatment of hypertonus or spasticity in muscles is:
to maintain length
to allow normal positioning of the limbs
This will help prevent secondary soft tissue shortening.
"The mainstay of treatment is muscle stretching, and splinting/orthotics provide a means to maintain prolonged stretching in between sessions of physiotherapy and manual handling" (Verplancke et al 2005).
The primary aim of the treatment of hypotonus or flaccidity in muscle is:
to preserve alignment of muscle and joints
to preserve function
Any intervention should be aimed at facilitating these fundamental treatments. This role should be multidisciplinary and part of the patient's everyday treatment and care planning.
Page last reviewed: 04 May 2020