Blood Glucose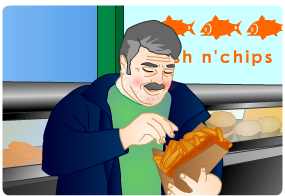 Bob, a 59 year old man weighing 28 stone, was in the fish and chip shop when he developed sudden vertigo.
He was driven straight to A&E where it was noted that he had a nystagmus and ataxia (lack of coordination). A diagnosis of posterior circulation stroke was confirmed on a CT brain scan.
A number of tests and assessments were carried out including urine analysis, BM stix and formal blood sugar and it was discovered he had a random blood glucose test of 10.8 mmol/l with glycosuria.
Q. "Is this normal?"
No – this is increased and the normal range for a random glucose is 5.0 – 7.0 mmol/l.
You should ask if Bob has a history of diabetes and if he takes steroid tablets, as steroids may increase glucose levels. Bob's glucose levels need to be monitored and a decision made about further treatment.
Page last reviewed: 23 Apr 2020